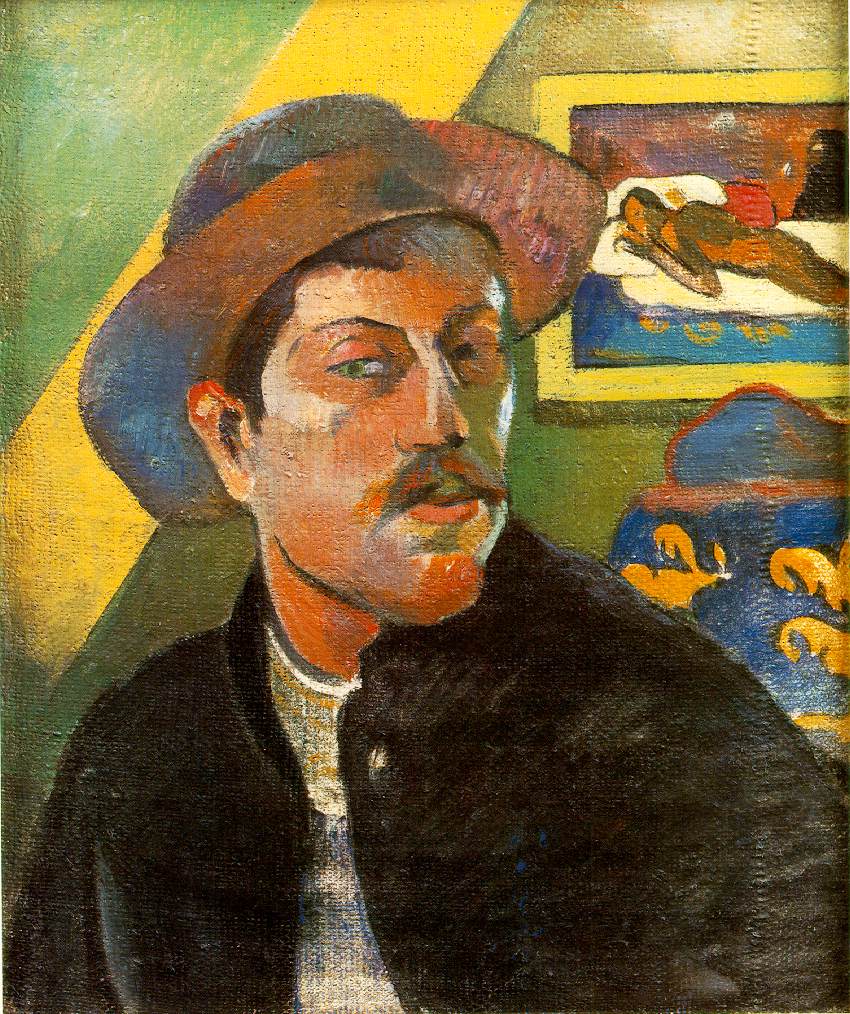 Not long ago I found myself alone in San Francisco with some of the most famous paintings in the western world. One entire room was devoted to Van Gogh: Starry Night Over The Rhone, The Bedroom at Arles, Portrait Of The Artist, some of Van Gogh's most famous works. Paul Gauguin's self portrait (right), was also on display. And I have to admit, it reminded me of myself, his defensive expression — OK, I've been known to wear it, and probably for the same reasons!
I'd seen some of these paintings before, in Europe, but as they are always mobbed by the public they are hard to really experience, in the way the artists intended. But that night, because of a fluke, I got to see them up close and alone. I had a strange sense of intimacy, as if Van Gogh were standing next to me wondering what I thought. It was an unbelievable experience, and quite a moving one.
That night reaffirmed something I already knew. Art, whether in the form of paintings, music, or novels, doesn't rely on money-worth to be valuable to humanity. In fact, Van Gogh's work would not have reached my generation if not for his brother Theo's intervention and love of art. It bears repeating: Van Gogh's paintings had no market to speak of. They were worth zero francs at the time of his death, as gallery owners in Paris were unwilling to hang work they considered ugly, and certainly not fashionable.
The "Marketplace" held in such high esteem today, the Marketplace that has been elevated to the right side of God in importance, failed humanity in the most serious way in the case of Van Gogh. It has failed us before (the slave trade), and most certainly is failing humanity again as millions of people are unable to find jobs because bankers were profligate and now need our help to insure their future… blah, blah, blah. How many great works of art have been lost because they had no "cash value," tossed into the trash by indifferent landlords looking for the real loot? Van Gogh gave the world something beautiful and important, which he could never "monetize." Now, ironically, his work is priceless. The Marketplace is, of course, a false God, which I was reminded of that evening.
Every morning I wake up, pour my coffee, turn on my computer and get set to work. More often than not, I find an email solicitation from a well-known company in Los Angeles that sells stuff to writers. Below is an example. (I'm not sure they are your friend, by the way, as they claim in their ad.)
A new year brings a fresh start, so now's the time to get your creative plan in motion. Fortunately, fill in the blank Store has the experience and the services you need to help you achieve your artistic aspirations. From the top screenwriting tools like (fill in the blank) to novelist's programs like (fill in the blank), there's something to ignite every imagination. Another great way to get those creative juices flowing in the New Year is through a writing course. Our current line-up of classes covers a vast amount of interests, and many are available to take in-store, or online for our friends who live outside of Los Angeles.
This store is part of a huge industry that preys on young writers — and older writers, for that matter — and it bothers me. Most of the stuff they sell is not going to help you with problems you'll face when starting out as a writer of novels or screenplays. Writing novels or screenplays is not about the size of your hard drive!