I will leave it to more rigorous and measured commentators and critics to assess the legacy of Derek Raymond's fiction and his place in the crime and mystery canon. I would rather remember my friend Robin.
The good mate who had to change his name, except in France.
Born into the British upper-middle class, educated at Eton, and something of a black sheep in his family circle, Robin Cook (formally, Robert William Arthur Cook), had written a half dozen well-received novels in the 1960s about the London demimonde of petty crooks and class war before his personal life came badly untangled and he flirted with petty criminality himself, eventually being obliged to leave the country and begin a decade of wandering across Europe—through Italy, Spain, and France, principally—during which time survival became more important than writing. He smuggled stolen cars over borders, became foreign minister for a commune in Italy that had seceded from the rest of the country, and toiled in the fields as a manual laborer in rural France. Add to this a failed marriage and semi-abandoned offspring before the pieces of his life finally began coming together again.
His return to writing in the second half of the 1970s saw him pen the first in a series of books featuring a nameless detective who was based around a police station on Poland Street in London's Soho, He Died with His Eyes Open (1976). However, when it came time to get the book published, he was informed that he could no longer use his own name. During his absence from the bookshelves, an American writer sporting the same moniker, now best known, of course, for medical thrillers, had emerged to considerable success. Thus Robert William Arthur Cook became Derek Raymond, and this is how the world now knows him. Apart from the French public, who were only aware of him as Robin Cook—his American counterpart never was a hit there, and local publishers were willing to issue Cook's books under his real name. Actually, abetted by the fact that he still lived in France until 1989, in the Dordogne, and that he had become well known as a popular presence in the local literary and crime scene—with his plum British accent, eternal black beret, and skeletal appearance—he quickly established himself as something of a cult figure there, where his sales were quite noteworthy in contrast with those in the United Kingdom and the United States, where he was still something of an unknown.
I first came across him at a festival in Cattolica on the Italian Adriatic where his convivial presence and general amiable quirkiness could not go unnoticed, although there he also became a visible irritant for the similarly loud but somewhat less subtle James Ellroy, who was also present. Robin's heavy drinking was of course in sharp contrast to Ellroy's puritanical attitude toward alcohol, a view influenced by his own checkered past. Somehow, despite the ironies of my own teetotal status (due to taste, not principle), we became friends and spent much time at the various bars, he having red wine and me Coca-Cola!
We were to meet again the following year at another large event in Grenoble, France, where I introduced him to the wonderful James Crumley. Needless to say, evenings at the bar stretched into whole nights…
Whether homesick or just bored with the cultural emptiness of rural France, Robin returned to London in 1989, and, having crossed swords with his previous agent (to whom, I think, he still owed money), he asked me if I would become his literary agent, as he happened to have a new Factory novel he had been sweating over for now three years. I was an ex-publisher and, at the time, had never agented, but I agreed to do so out of friendship. A day or so before a trip to New York, he handed me the manuscript of I Was Dora Suarez, which I read on the plane over. It was a profound shock, the sort of book that changes lives. He was still under option to the British publisher of his earlier books in the series, but they quickly declined the new offering on the basis that it made the editor now in place physically sick to read. Needless to say, leaking this information made selling the book an easy task, and he was soon ensconced with the outfit that has since become Little, Brown in the United Kingdom. I negotiated a multi-volume contract that gave Robin, who was always living from day to day despite his French revenues, some security. In the United States, Robert Wyatt at Ballantine took the book on, but he issued it through a minor imprint and it quickly sank. But in London, Robin had become the man about town, a minor legend in his own lunchtime, invariably propping himself up to the bar at the Coach and Horses or the French House in Soho. That became his public image. However, what people didn't know was that by now his alcohol intake was much more conservative and close observation would quickly establish the fact that he was nursing the same glass for several hours on end! But print the legend!
They were happy years. He was solvent, and young women loved him despite his age, his scrawny, unkempt appearance, and the garrulous intelligence that shone through his alcoholic haze. His earlier books were reissued and a new generation rediscovered him, and by default he became the pope of the British wave of neo-noir. The rock band Gallon Drunk created music for Suarez, and with Adrian Wootton, my partner in crime at Crime Scene, we managed to organize a concert at the National Film Theatre where Robin read from the book and the band played behind him. It was a momentous standing-room-only event. This actually appeared as a CD that is still available, and the sound of his distinctive voice still brings a shudder to my throat. Fans would troop down to Central London for his signings, where he held his court in smoky pubs, like a dissolute but endearing monarch of seediness. But behind this highly visible public facade was a man with the most delicate sensibility, someone for whom writing was also something of sacerdoce. And most were unaware of the agony he endured trying to find the right word on each new line, the amount of thought that went into his books. And also, he was a hell of a professional—little did most people know that every single day he would force himself to squeeze out a requisite number of words before he went to the pubs. He was also one of the gentlest, kindest men I knew.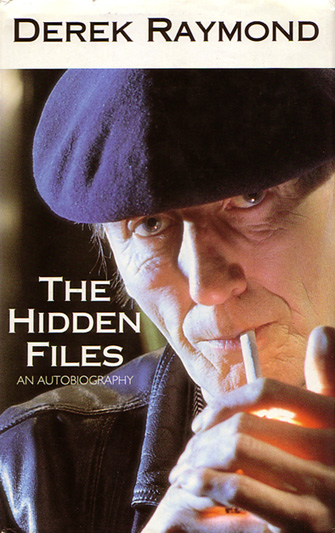 Good years, yes. He wrote two more novels and a memoir/essay, The Hidden Files, about both his life and the rationale behind his concept of noir writing. His sales were not enormous, but the word about him was spreading. Before long, BBC TV acquired the Factory series; it never went into production, but the advance paid the rent. Foreign sales multiplied. He was living in North London with a lovely young woman, thirty years his junior, who was pregnant with another's child, but he'd taken her in and she visibly adored him. He'd met her in a pub and affectionately taken pity on her, and at one stage, he was even preparing to bring the coming child up as his own.
Sadly, all the years of physical neglect, hard manual work, and the wear and tear of alcohol and worry got the better of him and he fell ill. There were months of repeated drives to hospitals, and he soon became incapable of looking after himself (he had asked the young pregnant girlfriend to leave him as he did not wish her to see him deteriorate further, and he helped her on her way). John Williams and Charlotte Greig took him in and looked after him for the inevitable final few months. Sad days.
He died in the summer of 1994. He was 63. It was a slow and sad death. At his request, John and I became his executors.
It was a nice funeral with friends from all over emerging from the shadows. British crime writer Mark Timlin, for whom Robin had become something of a father figure (and he was far from the only one in the London and European crime writing community who felt similarly) gave a lovely speech, and it seemed later as if all Soho was celebrating Robin and his life, the mourners moving from pub to pub to pub and every landlord who knew him raising a glass. To this day, a painting of Robin stands over the well-worn bar of the French House. He is still fondly remembered as one of London's unsung heroes, and the literary recognition that had partly evaded him throughout his life is now spreading, with most of his books back in print, being translated into further languages and, right now, into two promising movie possibilities (two earlier books had been filmed in France in his lifetime, but he has never been adapted in his own language). A whole generation of British authors now recognize him as a pioneer and as the man who brought "hardboiled" back to the United Kingdom with a vengeance, and acknowledge their debt—from Ian Rankin to Cathi Unsworth, who keep the flame alive. But aside from his importance as a writer, and the fact that no one "caught" the nature of evil and offered such empathy for the victims of crime and society better than he did, we just miss him terribly.
Shortly after the release of Suarez, the US magazine Entertainment Weekly, which used to publish a regular feature along the lines of "What Are They Reading Now?" chose one particular week to ask the American Robin Cook to reveal his choices. However, someone in the picture library department had found a photo of our Robin Cook, alias Derek Raymond, in their archives, and lo and behold there was our thin man with the sharp nose and the beret parading in print as an alter ego. What a laugh we had!
It still makes me chuckle tenderly: our own, the one and only Robin Cook.